Fresno Family Counseling Center

Involvement Opportunities
Volunteer Through Supervision
Have you been licensed for more than two years and have fulfilled the clinical supervision requirement from the California Board of Behavioral Sciences? Would you like to donate your time to supervise graduate level students?
We are always looking for competent supervisors that can add expertise in different specialties in the community to help graduate students reach their potential. If this is something you would like to contribute to FFCC, please contact the administration at 559.229.3085.
The Fresno Family Counseling Center is open from 8:00 a.m. to 7:00 p.m. Monday through Friday and on the weekends.
Tour
We invite you to tour the Fresno Family Counseling Center! To schedule a tour, please call 559.229.3085.
Giving
FFCC has substantially lower fees than other non-profit mental health agencies in the area, making it an invaluable resource for the community. Due to its affordability, FFCC has experienced a significant growth in the number of services offered to the community.
Your donation will allow the center to serve significantly more children, individuals and families who lack the necessary resources to access traditional mental health services and therefore have nowhere else to turn.
Areas of Support
Room Upgrades: Your gift will provide a welcoming environment to the community. The counseling rooms have outdated and torn furniture. To maintain safety standards, new chairs will be purchased that are long-lasting, fire-retardant and waterproof, each costing approximately $500 to $600.
Critical Technology: Your support will provide FFCC with critical electronic medical records software. This software is vital for quality care and to secure future grants.
Enhancing Student Learning: Your gift will enhance student learning through technology displays. FFCC has two group rooms which provide co-parenting, nurturing parenting, and anger management classes to the community. These rooms will benefit from the use of videos for student learning; technology such as flat screen TVs with DVD capability are needed.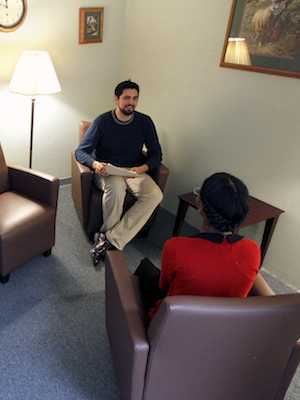 A special thank you to our recent supporters:
Anthony Guzman
Charlene Kiyuna
Lee Ann Jansen
Luz Marina-Wise
Kathleen Makoid
Alfredo Martinez
Isabel Mejorado
Robert and Carole Monke
Harry B. Moordigian
Patel Family
Tony Petrosino
Eric Purnell and the PG&E Community Campaign
Valerie Vuicich
Click here to make a gift or learn more about Ways to Give. To gift today, visit fresnostate.edu/givenow, select 'Other' as your gift designation and type "Fresno Family Counseling Center".