Master of Arts in Early Childhood Education
Master of Arts in Early Childhood Education
NAEYC Accredited
Fresno State's M.A. in Early Childhood Education program is the ONLY nationally accredited Early Childhood Education master's program in the state of California recognized by the National Association for the Education of Young Children (NAEYC).

Nationally Recognized
Fresno State has been recognized by Discover Early Childhood EDU for supporting student career goals at an affordable price while providing high-quality education.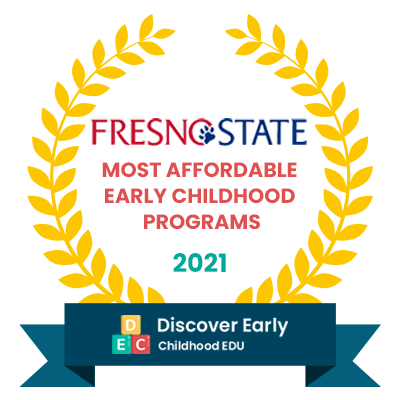 Program Overview
The Master of Arts in Early Childhood Education program offers specialized preparation for a wide variety of positions in educational settings with children from birth through the primary grades. The program is designed to meet the needs of candidates with different professional and educational backgrounds and varied career objectives.
The Early Childhood Education graduate program is a 30-unit program with two specialized pathway options: Teacher Leader or Program Leader. The Teacher Leader specialization is primarily for those in TK-3 settings. The Program Leader specialization is for professionals in various settings.
Because of the Joyce M. Huggins Early Education Center, an early education, research, and training center, housed in the Education Building, our students have unique opportunities to work with children and families as well as other academic disciplines across the university.
Career Opportunities
Our graduates work in a variety of settings; from being a professor here at Fresno State to working as an ECE coach for Fresno Unified to working at a non-profit organization. Earning your Master's degree in Early Childhood Education opens many doors to your future.
Work Environments
Public School System
Fresno County
Non-Profit
For-Profit
Hear from our students and graduates about how this degree has impacted their career.
CONTACT:
Dr. Heather Horsley: (Interim) ECE Graduate Program Coordinator
Email: hhorsley@mail.fresnostate.edu
Office: ED 353
Office Phone: 559/278-0119