Doctor of Education (Ed.D.) in Educational Leadership
Holmes Scholars Program
The American Association of Colleges of Teacher Education (AACTE) Holmes Scholars Program supports students who self-identify as racially and ethnically diverse and are pursuing graduate degrees in education at AACTE member institutions. Founded in 1991 for doctoral students, the Holmes Program now provides mentorship, peer support, and professional development opportunities.
Expectations of Holmes Scholars
A three-year commitment to the Holmes Program
Commitment to support efforts to promote social justice and diversity awareness among my peers, my community, and future generations of leaders
Enrollment in the online or face-to-face Ed.D program and desire to pursue a position in education.
For second and third year doctoral students, mentoring of a new Holmes Program student.
Participation in monthly Holmes Program meetings and professional development sessions.
Participation in the AACTE Annual Meeting.
Participation in at least one AACTE Summer Policy Institute (Washington Week).

Benefits and Support for Holmes Students
Interaction with other Holmes students at Fresno State and other AACTE member institutions.
Funding to attend AACTE's Summer Policy Institute, AACTE's Annual Meeting and Holmes Program Preconference.
Opportunity to interact with the Holmes alumni network facilitated by NAHSA.
Access to a Holmes peer mentor, faculty mentor, and Holmes Scholars Program Coordinator
Funding to join a professional organization
Tuition support after advancement to candidacy
Monthly Holmes meetings and professional development sessions. Possible topics include:

How to Publish a Manuscript
Teaching Strategies in Higher Education
Motivation to Complete the Ed.D.
Research Interests/Projects/Manuscripts
Job Search and Interviewing Strategies
Working toward Tenure and Promotion
Responding to "Call for Proposals" for Conferences
Tips for Successful Grant Writing
Culturally-Responsive Teaching in Higher Education
Balancing Teaching, Research and Service
Preparation of a CV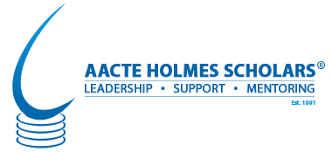 2024 Cohort Application Timeline:
November 27, 8:00 am: Application deadline.
December 6: Selected students will be notified.
Questions?
Click here to email Fresno State's Holmes Scholar Program Directors, Drs. Juliet Wahleithner and Ignacio Hernández.