Doctor of Education (Ed.D.) in Educational Leadership
Admission and Application

How to apply
The application deadline for admission into the Fall 2024 cohorts is February 1, 2024.
The application for Fall 2024 will be open starting October 1, 2023. We do not admit students for spring semesters. All materials must be submitted to Cal State Apply (https://calstate.edu/apply). Click on the "How to Apply" card below to access detailed instructions.
The PDF linked below contains the prompts for the Statement of Purpose and 3 additional essays. Prospective students are highly encouraged to attend one of our information sessions.
Fall 2024 Program Materials Prompts PDF Click to get on our mailing list and receive updates.
The Doctoral Program in Educational Leadership may admit only candidates who meet the academic requirements for the Ed.D. degree program and who possess personal qualities and professional experiences that suggest a strong potential for success as doctoral candidates and as educational leaders. Meeting the minimum requirements qualifies an individual for consideration, but does not guarantee admission to the Program. Admission will be granted on a competitive basis.

The Doctoral Program in Educational Leadership requires the following of all applicants for admission to the doctoral program:
An earned baccalaureate degree and master's degree from accredited institutions of higher education with a grade point average in upper division and graduate studies of 3.0 or above;
Sufficient preparation and graduate training and experience pertinent to educational leadership to benefit from the Program;
Demonstrated educational leadership potential and skills including successful experience in school, postsecondary, community, and/or policy leadership;
Three recommendations attesting to the leadership, ability, and scholarship of the candidate;
A written statement of purpose and answer to three prompts reflecting an understanding of the challenges facing the public schools or community colleges/institutions of higher education in California;
Professional resume or curriculum vitae,
Examples of professional writings;
Selected applicants will be invited for an interview with the Admissions Committee after the deadline and a full review of the application.
Other university graduate admissions standards for graduate students also apply to all Ed.D. candidates.
Applicants must submit a complete application on Cal State Apply (https://calstate.edu/apply) on or before February 1, 2024. On October 1, 2023, 'Fall 2024' will be an available term to apply for. Select 'Fall 2024' and click 'Apply.'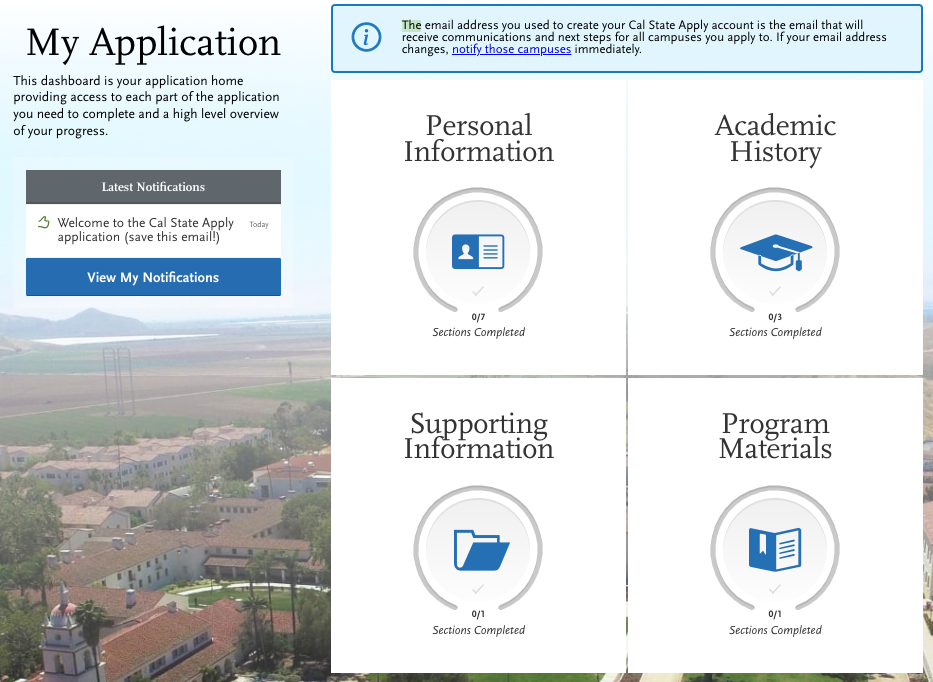 A complete application includes completion of the following portions, or "quadrants," of the Cal State Apply application:
Personal Information
Academic History
Program Materials*
Applicants must also pay the application fee.
*Program Materials
The Program Materials quadrant includes our program-specific requirements:
Statement of Purpose (prompt response)
Three (3) additional response essays to prompts A, B, and C
Resumé or Curriculum Vitae
Writing Sample

Attach no more than 20 pages. Examples are listed below. Applicants can include an excerpt of a large document and/or a combination of documents.

Master's papers or theses
Grant/Program proposals
Published journal articles
Relevant blog posts

Three (3) Recommendations

Recommenders must submit their recommendation a week after your February 1 deadline on February 8, 2024. We will not accept late applications or late recommendations. If there is a technical issue, please contact our advisor (contact information below).
Application Tips
Please send all official transcripts digitally directly from your institution to imaging@csufresno.edu. Staff cannot accept transcripts in our inboxes.


If digital is not an option, you can send the transcripts to: Graduate Admissions Office, 5150 North Maple, JA 57, Fresno, CA 93740-8026.
You may contact Graduate Admissions (graduateadmissions@mail.fresnostate.edu) to follow up on the receipt of your transcripts. If we do not receive your transcripts by the application deadline, do not fret. We will need them at the time of admission.

You can access a pdf of the Statement of Purpose and essay prompts in the card below or at the button above this box. This can be useful to prepare your responses. When you are ready to submit your application, you can copy and paste your answers from your document to the form in the Program Materials section.
Fresno State's Ed.D. Program strives to prepare engaged scholars and leaders who understand the challenges and opportunities facing California's P-12 schools and districts, as well as community colleges and universities. The following prompts provide applicants an opportunity to share their statement of purpose and responses to three prompts. Please limit your responses to no more than one page per prompt. You will need to paste your responses into the Program Materials section of Cal State Apply. These prompts are also on the pdf linked below:
Fall 2024 Program Materials Prompts PDF
Statement of Purpose
Provide a statement of purpose that describes your rationale for pursuing doctoral study in a social-justice oriented program. What are your goals for the program and for applying your learning in your future career as an equity-oriented educational leader? Please include evidence of your interests and experiences in working towards racial justice and educational equity.
Prompt A
Describe your contributions to and how you will benefit from the Fresno State Ed.D. program.
Prompt B
What accomplishments demonstrate your capabilities and your future potential as an educational leader?
Prompt C
Provide evidence that demonstrates your ability to succeed in a social justice oriented and cohort-based, doctoral program. Your response should describe ways you have given full consideration to the nature of a doctoral program and your ability to devote significant time and attention to doctoral studies. If you're admitted and choose to enroll, what factors might be the biggest challenges you face or what might be the barriers to your success? How do you plan to address or overcome them?
No more than nine (9) units of transfer and/or California State University, Fresno Extension semester credits may be transferred into the Doctoral Program in Educational Leadership at Fresno State pending review by the director. Courses cannot be counted towards an already completed degree.
Any units accepted by the program director may be counted toward the specialization courses and may not be counted towards completion of the core courses. Courses must be graduate-level courses with a grade of B or better. Course syllabi, catalog descriptions of the courses, and a copy of the transcript showing the posted grades for the courses must be submitted to the program director along with the request to accept the transfer credits.
The California State University has established the CSU Education Doctorate State University Fee for students enrolled in the Doctoral Program in Educational Leadership. The CSU Education Doctorate State University Fee rate is linked to the University of California graduate fee rate and will be subject to the same fee increases assessed by the University of California.
The CSU Education Doctorate State University Fee rate is currently $6379.50 for the Fall 2022 term. Doctoral students will attend three semester terms per year (fall, spring, and summer) and eight semesters in total. Students in the online program are expected to pay $500 for each of the two Summer Residencies in which they participate. All fees are subject to change. Please refer to the following website for more up-to-date information: Fees
Official transcripts are to be sent digitally to imaging@csufresno.edu directly from the institution. If sending digitally is not an option, transcripts should be forwarded to: Graduate Admissions Office, 5150 North Maple, JA 57, Fresno, CA 93740-8026. You may contact Graduate Admissions (graduateadmissions@mail.fresnostate.edu) to follow up on the receipt of your transcripts.