Master of Arts in Education
Master of Arts in Education, option in Reading/Language Arts
The Master of Arts degree program in Education with an option in Reading/Language Arts focuses on helping graduate students and teachers become professional reading literacy educators. Students can pursue a master's degree, credential, or added authorization in Reading and Language Arts.
The program is committed to promoting and enhancing the quality of instruction in reading and language arts. Our graduate students learn how to become professionals in the field. Their knowledge base increases as a result of making connections between literacy theory and pedagogy, and they learn how to coach and mentor other teachers in the field of literacy and reading.
Philosophy Statement
The Reading/Language Arts MA, which includes the Reading and Literacy Added Authorization and Reading and Literacy Leadership Specialist Credential, is a practitioner-centered program focusing on the interdisciplinary study of literacy from a variety of critical and sociocultural perspectives. Through these perspectives we emphasize culture and language in literacy instruction. As a program, we follow the International Literacy Association's definition of literacy as identifying, understanding, interpreting, creating, computing, and communicating with visual, audible, and digital materials across disciplines and contexts (2018). Skills like Phonemic Awareness, Phonics, Fluency, Vocabulary, Comprehension, as well as literary response and critique, and writing/composition, are developed through the lens of cultural experiences, the use of socially-situated practices, and culturally sustaining materials.
We believe all people are literate, and align with Kirkland (2013, p. xiv) who stated, "Literacy is a potential—complex, social, cultural, historical, and even political—that, like energy, is ever stored in the human bond. The practice of literacy is a release of this energy/potential, which always exists in every human's ability/vocation to make sense of our world" (David Kirkland, 2013, p. xiv).
Program Format - On Campus or Fully Online
Online Program Option
Developed for Working Professionals

Only need to be logged in during live sessions, complete the rest of the class at your own pace

One Class at a Time

Take one class every 8 weeks, 2 classes in a semester

Technology Support

Canvas and/or Google Classroom support embedded into the program
Career Opportunities
Literacy coaches in schools
Instructor at a community college
Educational literacy consultant in private and public settings
Diagnostician in reading clinics
Resource teachers in schools and community literacy centers
Consultant for publishing companies
Program Options
Students can earn the credential and authorization simultaneously while seeking the Master of Arts degree.
*Graduates interested in the Credential or Authorization must possess a Multiple Subject State of California Teaching Credential upon program completion.
About Us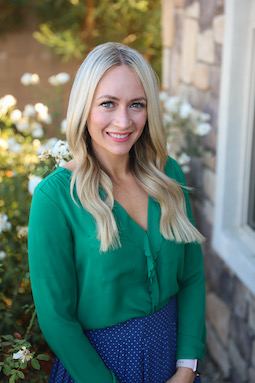 Dr. Monica Billen
Program Coordinator