Kremen School of Education and Human Development

2021 Educational Leadership Research Symposium
Saturday, April 24, 2021
9:00 AM - 3:15 PM
The Department of Educational Leadership is hosting the Educational Leadership Research Symposium: Research to Ignite Change. This virtual symposium will highlight current research in educational leadership for social justice and actionable change in preK-12 and higher education settings. This symposium will provide emerging and current educational leaders an opportunity to engage in learning and disseminating knowledge that focuses on issues of transformation and change in education.
Highlighting Doctoral and Masters' Research for Social Justice and Action
Through this symposium, we advance the departmental mission to develop scholar-practitioners and prepare credible and relevant leaders in education for diverse communities. Students from the Master of Arts in Educational Leadership and Administration, Master of Arts in Higher Education Administration and Leadership and Doctorate in Educational Leadership programs will be presenting findings from their research studies.
Register to Attend
Join us at the Educational Leadership Research Symposium. The deadline to register is Friday, April 16, 2021. Register by clicking the link below.
---
Virtual Program Schedule
virtual program schedule
Time
Event
9:00 A.M.
Welcome and Opening Remarks
9:20 A.M.
Keynote
10:00 A.M.
Program Overview
10:15 A.M.
Transition
10:30 A.M.: Session 1

Strand 1: Structures for Teacher Practice and Retention

Strand 2: Courageous Conversations on Anti-Racism

Strand 3: Issues in Program and Student Assessment

11:15 A.M.
Transition
11:30 A.M.: Session 2

Strand 1: Considerations for Hiring and Supporting for Hard-to-Fill Positions

Strand 2: Racial and Gendered Experiences in Education

Strand 3: Issues of Equity for Faculty and Students in Higher Education

12:15 P.M.
Transition
12:30 P.M.
Lunch and Learn
1:30 P.M.
Transition
1:45 P.M.: Session 3

Strand 1: Sustaining Teacher Development and Well-Being

Strand 2: Social Justice for Student Recruitment and Degree Attainment

Strand 3: Issues of Equity in Middle and High Schools

2:30 P.M.
Transition
2:45 P.M.
Closing Remarks and Raffle
Guest Speakers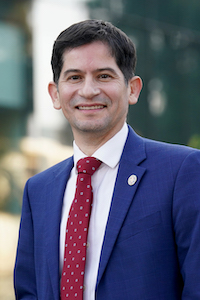 Saúl Jiménez-Sandoval, Ph.D.
Interim President
California State University, Fresno
Xuanning Fu, Ph.D.
Inerim Provst and Vice President for Academic Affairs
California State University, Fresno
Randy Yerrick, Ph.D.
Dean, Kremen School of Education and Human Development
California State University, Fresno
---
Hosted By:

Sponsored By: